Strategies for taking back control from Big Tech platforms
by:
Alexander Baratsits (pub.)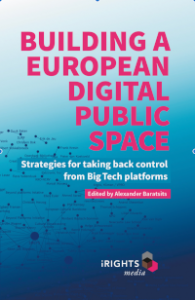 The disruptive transformation of the "public" through digitization has led to monopolizing structures on the Internet that make Europe dependent – both at an infrastructural level and politically – on non-European private and state players. At the same time, these structures undermine our democratic order. This book shows how the current crisis could boost our chances of breaking new ground by establishing an independent European Digital Public Space. The contributors are academics, actors from public and non-commercial media, and long-time activists in the field of the Commons.
Available at https://irights-lab.de/publikationen/dps